What are the biggest challenges facing successful business people today? In my work as a certified executive coach for C-Suite Executives, Directors, Managers, and Entrepreneurs, there are many recurring themes that seem to surface. One at a time, I'll be sharing with you 12 of those top challenges along with hints, tips, and steps you can take to avoid or eliminate altogether these key issues that might be holding you back from achieving the kind of success you are aiming for.
Challenge #4: "I'm struggling with an extremely tough decision."
As a senior manager or executive, you're constantly faced with making difficult decisions. Most of the time, you can make those decisions based on experience, on financial analysis of the situation, on input from a colleague or your boss, or even perhaps based on pure instinct. But once in a while — and this happens to us all as executives — you are faced with a truly gut-wrenching decision that simply has to be made, and there doesn't seem to be any "right" or "obvious" choice anywhere you look.
Maybe you've been told by headquarters that you have to reduce your staff by 10%, and you're down to the last decision between two direct reports. They have both been loyal employees, and they both need the job. Both of them have families, and they are very much equal in terms of their experience and skills. The decision is all riding on you, which is one very lonely place to be. There's no "financial" analysis involved here; this isn't about numbers. You may even experience sleepless nights as you grapple with your choice.
Your "Motivational Balance Sheet"
No matter the critical decision you face, here's a tool you can use called the "Motivational Balance Sheet." It's a specific way of looking at the pros and cons of a situation, it can help you evaluate various possibilities, and to put non-numerical options into numerical terms.
Here's how it works. Think of the tough choice you are faced with — let's say you are considering taking a new position in a new company. Write down all the key reasons (a) why you would take the job, and (b) why you would not to take the job. Now, rate each of those reasons from 1 to 10, with "10" being very important to you, and "1" being not important to you. Add up your scores and see which list gets the highest number. Here's an example:
Motivational Balance Sheet — Accepting a New Position in a New Company
| | | | |
| --- | --- | --- | --- |
| Reasons To: | Ratings | Reasons Not To | Rating |
| I will make more money. | 10 | I will have to work longer hours. | 9 |
| I will experience exciting challenges. | 8 | There will be a learning curve, and I will have to prove myself. | 7 |
| I will be more likely to reach my full potential. | 10 | It makes me nervous to make a change. | 7 |
| It would be good for my resume. | 8 | I may have less time to spend with the kids | 10 |
| Positive Total: | 36 | Negative Total | 33 |
Balance sheets like this are great when you have plenty of time to mull over all potential directions, but what happens when you have to make a quick decision, with no time to do a full-fledged analysis?
In my coaching practice, I have found that the old "flip of a coin" method can cut right through the confusion. Write down which decision will be heads and which will be tails. Then, flip the coin, look at the outcome, and notice immediately how you feel about that outcome. Are you disappointed with how the coin landed, or are you happy? This often will tell you right away which decision is best.
Whatever the method you use to make your decision, trust yourself. Look inside, and know that you have exactly what you need to be able to make a wise choice. You have been put in your position of authority and responsibility for a good reason. If your decision involves letting someone go from your company, don't assume that it will be a bad move for the employee. It might actually allow that person to find a new job that is better or even higher paying.
Whether you're faced with the challenge of making a complex decision or the challenge of determining where your career is headed, you can absolutely take positive steps to move forward. It just requires some good inner reflection and proven strategies to help you sort through all your options until the way is clear.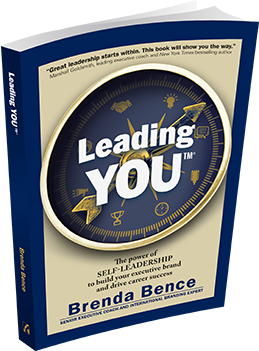 The most important driver of overall success is your own self-leadership. How you lead yourself directly impacts your ability to lead others, and that, in turn, can prevent you from reaching your full potential.
Discover the power of SELF-LEADERSHIP to build your executive brand and drive career success.