Before we begin… What is "Your Brand?" For the purposes of this article, a 'brand' can be your business, your company, your product, or the service you provide. And while we're defining terms…the word 'consumer' means a member of your target audience, such as an existing client, a new customer… or even a competitor's client!
The global reach of online communication has turned the business world on its ear, with enterprising marketers struggling to keep pace with this whole new world. With all the changes, however, one principle of 'making the sale' has remained constant. It's a concept that remains at the forefront of the marketing world because it's at the very foundation of business success.
Everybody's doing it. Coke does it. So does Nike. Banks do it… health clubs do it… so do successful wedding photography studios, private bus companies, and even cupcake shops. What is it? Positioning.
For all companies, no matter what size, well-focused and consistent attention to branding and to creating a favorable, memorable brand position in the minds of prospects is the most effective way to compete, to rise above the static, to become the go-to solution in any market.
It's Fundamental
The idea of creating a 'brand position' was first explored in business journals in the late 1960s. Many considered it a passing fad. They were wrong. Unlike other 'fads' of the time such as Nehru jackets and flower power, positioning has withstood the ravages of time. This marketing idea has gone from fad to fashion to become an established principle for creating business growth that has endured for nearly 40 years… and shows no sign of losing strength anytime in the future.
The way you want customers to perceive, think, and feel about your brand vs. competition.
Notice how the above definition of Positioning relates not what you do to a product, but more, what you do to the mind of the consumer. Positioning is creating a 'one-on-one' relationship with your consumer, that brings your brand to life, tells a story, gives it a personality.
Positioning presses a consumer's intellectual and emotional hot buttons for buying. It clearly defines the reason your brand is in the marketplace. Well-crafted positioning creates a picture in the mind of your consumers, the picture you want him or her to visualize of your brand… what you offer in relation to all the other choices that your consumer has.
Positioning is the marketing fundamental that you use so that your brand will stand head and shoulders above the rest instead of getting lost in the crowd. Positioning defines who you are, what you offer, and why they should forget about your competition.
The Hub of your "Brand Wheel"
When you think of your brand, imagine a wheel with spokes. The spokes are all the aspects of your business or brand you use to communicate to customers exactly what your brand is all about. This exhaustive list includes, but isn't limited, to…
Advertising, Promotion, Public Relations
R&D, Product Design, Packaging
Distribution Channel Choice, Service Delivery System
Merchandising, Pricing
Each of these defining aspects of who you are and what you offer are critically linked to — and based upon the brand position at the center of the wheel. For your brand 'wheel' to whirl at top profit-generating speed, you must first develop a powerful hub for that wheel. The hub is your brand position. It is the source of your power and drives every one of the spokes in your wheel.
Stand Out In A Cookie-Cutter World
In almost any market niche today, consumers have a staggering number of choices. Frequently, there is little or no functional difference between products themselves, so consumers make their choice based on brand positioning. They're looking for added value…something that appeals to either their intelligence OR their emotions.
Developing a brand position forces you to think clearly about what makes you uniquely different in the market place. When you understand this key concept, you'll be able to explain to your consumers why they should choose your brand over the competition.
Accept No Substitute
Indeed, the ultimate objective of a brand position is to get your target to feel that there is no completely satisfactory substitute for your brand. "I only drink Coke." "I only buy Honda." "Whenever I have an ice cream craving, I reach for a Dove bar." You undoubtedly have your own favorite brands that you use everyday that you wouldn't dream of substituting with "Brand X:" a favorite toothpaste, a trusted brand of razor, "your" perfume… .
Training Exercise: There's no better subject for a positioning research test than YOU. Think about items that you purchase regularly and use daily. What products have left their mark… their brand…on you? Why have you chosen them? Is it strictly based on the way they perform? Probably not. You've likely developed a relationship with your chosen brands and think of them like good friends… trustworthy, dependable, or maybe even 'cool' or 'hip.'
Effective positioning (and a good product) creates brand loyalty and brand longevity. Unless the manufacturer of a brand you like alters the product or its image dramatically, you'll probably be using that brand for years to come. That's brand loyalty, driven by strong brand positioning.
The Bottom Line
A clearly-defined and consistently reinforced brand position leads to focused, consistent, powerful, and cost-effective marketing initiatives. These initiatives will deliver heightened visibility which translates into increased prospects.
From an ever-widening pool of potential consumers comes increased market share, improved financial performance, and an exponential profit potential In short…
Powerful positioning is fundamental to great brand building.
DEFINING YOUR POSITIONING – The Six Elements of Your Brand
Brand positioning is a process and one that any business owner can master…if he or she has the right tools. The good news is that this toolkit is laid out below and doesn't cost a penny. What you need is what follows, the six core elements that define your brand.
NEEDS
Satisfying the needs of the consumer is at the heart of a brand. Strong market positions that fail to respond to a market need that is important to people are a waste of both time and money. If your brand focuses on some minor attribute that is unique to you but of little concern to customers, you're doomed. Consumers won't be interested in what you have to offer.
To satisfy consumers, you have to let them know what's in it for them. To truly build a relationship with your brand, it's important to give people what they want and satisfy them on two distinct levels. First… you must meet their functional needs that are addressed by focusing on the physical, the tangible.
Major brands do it like this:
"Reduces plaque, tartar, gum disease" (Colgate Total toothpaste)
"Helps promote brain development in children" (Enfamil Infant Formula) …
"Financial flexibility to purchase what you want, when you want" (American Express Card)
The second type of Customer Need you must meet has to do with something more touchy-feeling… emotional needs.
'I feel confident I look great when I smile…" (Colgate Total toothpaste)
"I know as a parent I'm doing the best for my child's future…" (Enfamil Infant Formula)
"I want a credit card that is a status symbol and reflects my success in life." (AMEX)
Using a product that works well is rational… but frankly rationality usually only sells "products." It's emotion that sells a brand. Connecting with consumers emotionally is how good brands turn into profit.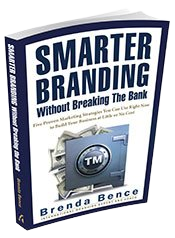 Smarter Branding Without Breaking the Bank
Building a brand for your business doesn't have to cost a fortune! Discover five proven marketing strategies you can use right now to grow your company brand, at little or no cost.