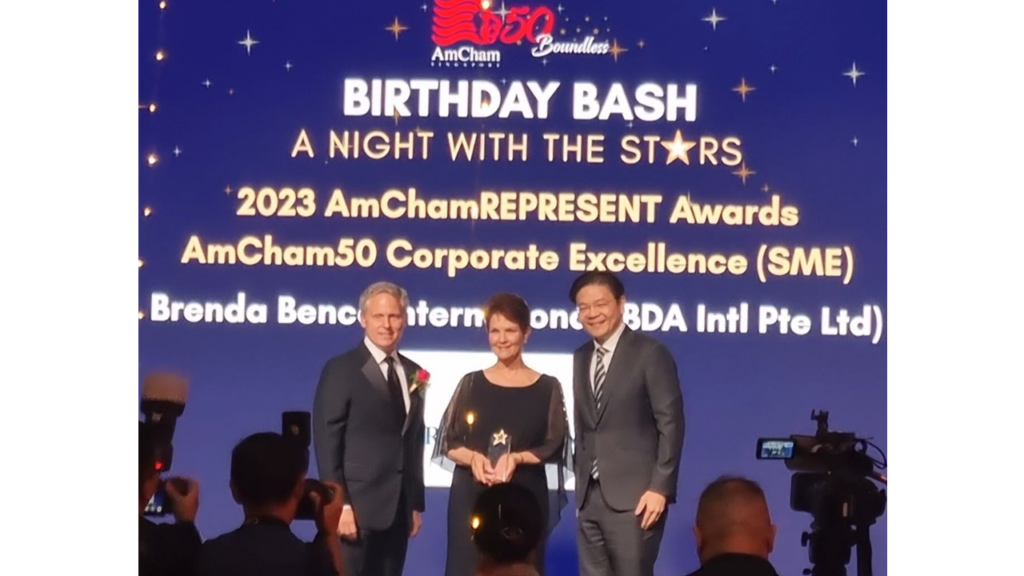 I had one of those unforgettable moments this past Friday night – the kind of moment that will stay with me for years to come: Our company, Brenda Bence International, was honored with the SME "Corporate Excellence Award" at the The American Chamber of Commerce in Singapore's remarkable 50th-birthday gala event!
This recognition represents the culmination of two decades of commitment to a dream.
When I left the corporate world more than 20 years ago to embark on this entrepreneurial journey, many people thought I was crazy to take such a risk.
At that time, I was fortunate enough to have achieved success in large corporations, climbing the ranks to the highest echelons. But I was driven by a different kind of vision.
I wanted to run a company that, though small in size, would be mighty in its commitment to excellence. It would mirror the high standards I had experienced in the corporate world and infuse every day with flexibility and joy. A place where my team and I could foster innovation, refine existing services, and create new ones—all with one singular goal in mind: to meet the exacting needs of our discerning corporate clients.
Our goal was that the leaders we served – whether for their companies or for themselves or other individuals – would return to engage us time and time again, a testament to the quality of our services. My aspiration was for this small-but-mighty company of ours to rival even the largest multinational corporations in terms of level of excellence, and to deliver unparalleled customer satisfaction in C-Suite Executive Coaching and Professional Keynote Speaking for large MNCs.
Day by day, year by year, I kept my focus on that North Star, and on this unforgettable past Friday night, it all came together as I stood on stage to accept this amazing award. AND, the honor was bestowed upon me by none other than Lawrence Wong, the Deputy Prime Minister of Singapore! It was truly "one of those moments."
Thank you, AmCham, for this wonderful recognition. And it's beautifully symbolic that Procter & Gamble – where I honed my leadership and coaching skills before coaching was even a recognized field – won this same award on Friday night, in the MNC category!
Thanks to every client who has placed their trust in me and our company through the years – I appreciate your support more than you know. It's been an incredible ride, and the future holds even more opportunities for us to make a positive impact.