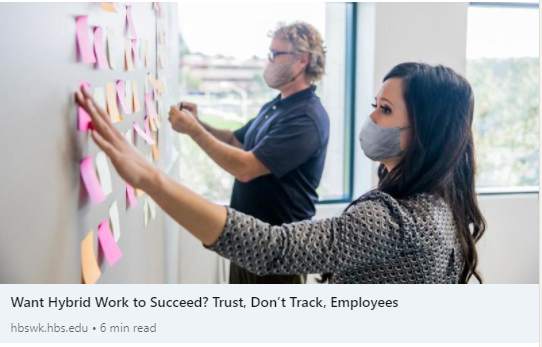 "You have to trust that [employees] are intelligent enough and well-intentioned enough to get work done."
"We have this notion that we need to 'see' people in order to determine their performance."
These are just two of the many interesting quotes from this Harvard Business Review article about the studies that Tsedal Neeley, Harvard Business School professor, has been conducting for the past two decades related to managing and working remotely.
As the article states: Many companies want employees back at desks, but workers want more flexibility than ever.
What do you see as the way forward?
https://hbswk.hbs.edu/item/want-hybrid-work-to-succeed-trust-dont-track-employees?utm_source=SilverpopMailing&utm_medium=email&utm_campaign=Daily%20Gazette%2020211101%20(1)