Congratulations to Trish Meecham, our winner!
Many thanks to those of you who responded to the call for questions that appeared in my last e-newsletter. We had some great questions that came in on the topics of both personal and corporate branding.
Our winner this month is Trish Meecham from Credit Suisse. In return for her question, Trish received a complimentary copy of the book The Power of the Platform: Speakers on Purpose that I wrote along with other professional speakers such as Jack Canfield, Brian Tracy, and Les Brown.
See Trish's question and my response below. Thank you, Trish, for writing in — it pays to ask great questions!
Trish's question:
"What are the recommended process steps to align company brand and [employee] behavior?"
My answer:
What you're talking about here is what I like to call successfully making the personal brand/corporate brand connection. Let me share an example.
When speaking at conferences on this topic, I share a true story about the high-end Ritz-Carlton hotel chain. This particular story is about how a hotel guest, who left his laptop at the Ritz-Carlton in Atlanta, had his much-needed computer returned to him in Hawaii – personally – by an Atlanta-based housekeeper who flew all the way there just to bring it to him. This housekeeper was empowered to do that, without hesitation, because key leaders of the hotel chain had established a clear credo and had set up a system to enable any employee – whether a housekeeper, receptionist, driver, or guard – to do what was required to communicate the very specific brand of customer service the hotel wanted to craft for itself.
I like that story because it illustrates how much of an impression every single employee – and his/her individual personal brand – can make on a corporate brand.
So, how well do the individuals – the unique personal brands – of you and all the people you work with reflect the total brand of your company?
Here are a few specific actions to consider when trying to strengthen the "Personal Brand / Corporate Brand Connection."
Be crystal clear about what your desired corporate brand is. If you're not sure as a leader or an employee of the company, then you can be certain that you won't be successfully communicating a consistent company brand to anyone else – customers, potential employees, or fellow team members. If you haven't already, carefully define the six elements, that make up your corporate brand [need some help defining your company brand? Refer to Assume the Position! How to Use Positioning to Make Your Brand Irresistible.]
Consider how well your team really knows what your company's brand stands for and how to reflect your company's brand values in everything they do. Do your team members know exactly what is "correct" and "incorrect" actions that best communicate the brand? Remember that Ritz-Carlton not only made sure its employees knew what the brand's credo was (employees carried it around in their pockets!), but the hotel chain also empowered its employees with the specific tools and resources they needed to put that credo into action immediately. That's key.
What Actions, Reactions, Look, Sound, and Thoughts are consistent with the company brand as you want customers and consumers to perceive it? If you're not sure yourself and/or your team is not fully prepared to represent the brand in their daily interactions with others, take action to make sure they are: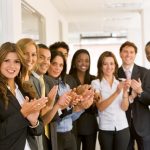 Find employees who are embodying the company brand well, and make them role models to illustrate to other members on your team what they can do as well to best embody the brand of the company.
Reward those employees for their actions, making it clear to others that what those employees did was a great reflection of the way you want the company's brand to be portrayed.
Make sure everyone you work with has the tools and resources they need to represent your company well. Is there a system in place to allow employees to take action to help build the brand if a need arises? Have you set up parameters as to what an employee is free to do in support of the brand?
Doing all of these things is a great way to make sure customers will perceive, think, and feel about your brand exactly the way you want them to.
Those are just a few tips for how you make a strong Personal Brand/Corporate Brand Connection. To learn how our Corporate Brand/Personal Brand Connection Workshop could help your team develop strong personal brands while also strengthening your company's brand in the marketplace, click here