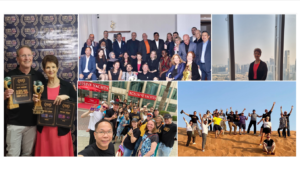 Before this month runs away, I wanted to take a moment to celebrate community and connection.
Earlier this month, I was in Dubai to attend an awards gathering for Global Gurus, recognizing many of the world's top thought leaders. Hosted by my friends and colleagues Mark C. Thompson and Dr. Bonita Thompson in their apartment in the Burj Khalifa, we had a great time sharing stories and enjoying each other's company. The next morning, we started the day with breakfast on a yacht followed by an excursion the desert. It brings such joy to connect again in person.
With Nankhonde Kasonde-van den Broek, Claire Boscq, Chester Elton, Arthur Carmazzi, Scott Osman, Jacquelyn Lane, Magdalena Nowicka Mook, John Mattone, Dr. Rick Goodman, Mark Nation, and Jonathan Low, just to name a few of the wonderful people who attended!