Would You Want To Work For YOU™®?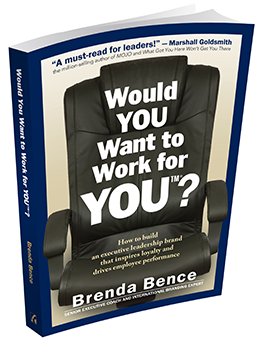 Would You Want To Work For YOU™®?
How to build an executive leadership brand that inspires loyalty and drives employee performance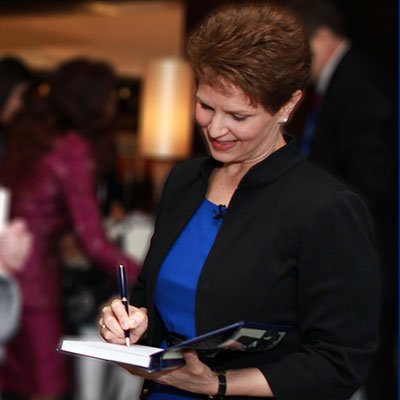 "Brenda Bence reveals how you can affect the way your people perceive, think, and feel about you so that you can become the boss you really want to be.  Read this book – it's about YOU."
The secret to cracking the leadership code is … YOU™
If you are an executive who has worked long hours, risen to every challenge, and built a strong reputation for yourself, then why haven't you reached the highest levels of leadership?
Here's a reality check: Your business achievements and functional skills alone aren't enough to help you get where you want to go. What's likely missing is a skill that the world's best corporate leaders have developed-mastery of the people side of the equation.
You must become a leader that others want to work for. How do you do that?
Let go of being an expert. Become a leader of experts.
The narrow path to excellence in people leadership is littered with excuses and misunderstandings about what works and what doesn't. Many executives blame their leadership challenges on never having had a great role model. Others have followed great leaders but have been unable to duplicate that same level of success.
If you are a senior leader wanting to release your team's productivity and advance to the top echelons of your industry, it's vital to start by looking inward. Dial in to "YOU™"-The Trademarked You-and discover your unique leadership qualities, preferences and, yes, shortcomings. By converting these attributes to your own authentic, winning Executive Leadership Brand, you can motivate your team to genuinely want to do their best for you and your organization.
If anyone knows what prevents leaders from reaching their full potential, it's author Brenda Bence, who has years of experience coaching senior executives at the top levels of major corporations worldwide. In Would YOU Want to Work for YOU™
?, she reveals the 15 most damaging people-leadership behaviors that she regularly sees in the workplace and provides you with dozens of tips, tools, and techniques that you can apply immediately to correct them.
Packed with real-life case studies from around the globe, this book will help you:
Discover where the world's best business leaders focus their energy
Get crystal clear about the experience of working with and for you as a leader
Uncover the #1 reason for unwanted employee turnover and what to do about it
Motivate even your most challenging and underperforming team members
Create a winning Executive Leadership Brand-The Trademarked YOU™
Inspire others to excellence, and fast-track your own career in the process
If you wouldn't want to work for you, why should anyone else?
With Brenda Bence's insights, you'll create a brand that elevates you well above the average so that you can become the inspiring leader that you, too, would be honored to follow.
Would YOU Want to Work for YOU™️ is a part of the YOU™️®️series.

"A must read for leaders."
"I consider Brenda Bence as one of Asia's most outstanding executive coaches and leadership developers, and this book is another testament to that."
"A great book on leadership – well worth the read!"
"Reading this book will change the way you lead for the better."
"As an entrepreneur and leader of a large organization, I've read many leadership books and attended several leadership courses over the years. However, Brenda cuts the jargon and gives you practical and highly effective leadership tools that you can immediately put to use. Her pie chart approach presented in this book is such a simple yet powerful way for one to introspect and quickly correct their leadership style. You will not find another book that is such an easy read and one that you can start applying from the first chapter itself."
"In Would YOU Want to Work for YOU™?, you will learn a great deal that you can take back to your position as a leader and apply immediately to help strengthen and grow your team members and your business.
Reading this book is a worthwhile investment of your time."