The situation in Bangkok on Wednesday, May 19 was like a scene right out of a nightmare. But, unlike a bad dream, the violence, fires, and bombs were very real and not only caused death and injury to many, but also displaced thousands of Bangkokians from their homes.
That was the case for my husband, Daniel, and me as well. I was actually in Singapore all day Wednesday working with a client, but Daniel kept me posted on what was going on back home, sending me increasingly urgent SMS messages with updates: "fires set all around the city…" "anarchy setting in across Bangkok…" "buildings completely ablaze…" "gunfire continues…"
As my work day was finishing up, Daniel sent me yet another SMS: Our home had lost all electricity and water because protestors had set fire to a power station just down the street. My fears of how bad it was were solidified when I received e-mailed photos taken from one of our balconies and I could see the thick, black smoke billowing from buildings just meters from where we live. [All of the photos in this blog were taken from our home.]
When I became available to call Daniel by phone, he shared with me some additional news: The government had put into place a curfew that would start at 8 p.m. that evening. That meant any travel after that time would not be allowed, and anybody who broke the curfew was subject to being shot. My flight back to Bangkok was due to arrive at 10 p.m. – but the curfew was in force starting at 8 p.m.
"Don't come back to Bangkok," Daniel advised. "Just stay there in Singapore where it's safe."
Agreeing that was probably the best thing to do, I quickly ran down to the reception of the hotel where I had been working, but I was just as quickly informed that there were no hotel rooms available anywhere in Singapore except for a few rooms in hotels out near the airport. (All of the Bangkok-based meetings and conferences had switched to Singapore, flooding the hotels there.)
At this point in time, two things became quite clear: It wasn't safe for Daniel or me to stay in our home any longer, and my plans to return to Bangkok were clearly going to be trickier than I had anticipated.
While I searched for a place to stay in Singapore, Daniel and I agreed he should also go in search of any available hotel room he could find in Bangkok. Many hotels in the city had been shut down because they are located so close to where the violence was taking place. And, the hotels that hadn't been shut down were completely full because so many people who lived in the "red zones" had left their homes and had opted for staying in hotels outside of the dangerous areas.
After several calls, and through the help of a friend, Daniel finally found a room in a little off-the-beaten-path hotel out near the airport – a good 45 minutes away from where all the trouble was taking place. Much to my relief, not long after that, Daniel sent me a text message saying he was settled in the hotel and looking forward to me meeting him there.
In the meantime, I had taken a taxi to the Singapore airport, unsure if my scheduled Thai Airways flight would even take off. At the airport, I met many fellow passengers – all Thai – who were beyond worried. They were more in a state of shock. I kept hearing them say the same thing over and over: "I can't believe this is happening to my home, my Bangkok, my Thailand…." The connection with this country is so incredibly strong, it was palpable.
After a couple of anxious hours of waiting, we boarded our plane, and the flight back to Bangkok was smooth, arriving into Suvarnabhummi airport right on time – at 10 p.m.
The trick was getting to the hotel where Daniel was staying because of the curfew. The hotel was 10 kilometers away from the airport, and normally, I would just take an airport car there. But, Daniel had warned me not to take an "official" airport car because the protestors had been shooting at any cars related to the government (the airport is run by the government, and all airport cars are well marked as such). Fortunately, Daniel convinced the little hotel where he was staying to send a van to come get me and transport me to the hotel. This worked out great – our van passed an inspection by armed guards as we were leaving the airport, and I finally arrived at our little 'oasis' of safety out in the Bangkok suburbs.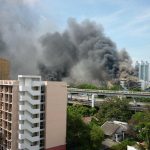 I am always (always!) happy to see my husband after I return from any travel, but this time, I felt especially grateful to be safe and with him. Whew.
Sleep came sparingly for us that night as we were both worried and still so shocked by what was going on, but at least Daniel was safe, I was back on Thai soil, and – most importantly – we were together.
They had said it might be days before we would get electricity and water restored at our home so, starting early Thursday morning, we were taking action to find a longer-term solution to where we could stay for a while. However, right before noon, we got a call from our building manager informing us that electricity & water had come back on at our home! Great news indeed … but would it be safe yet to go back to our neighborhood? A few phone calls to some friends who live around the same area convinced us that it was now Ok, so we packed up our things and headed into the city.
Driving back into Bangkok was a humbling experience… seeing popular shopping malls, theatres and office buildings that had been destroyed… realizing how very close our home was to areas of total destruction (a total of 10 buildings in our neighborhood were burned down)…
But, in the end, we arrived home safe and sound. Our BDA staff and their families – with whom we have been in contact daily – are all safe as well. Our e-mail inboxes, Facebook and LinkedIn pages have been filling up with such caring and warm messages from people all around the world who have shared their concern for us and who just want to make sure we are OK. What an outpouring of support we have received! For all those things – and so much more – we are incredibly grateful. Thank you!